Capgemini Customer Experience Summit 2023 - Top Managers Program: Master the Driving Force of Change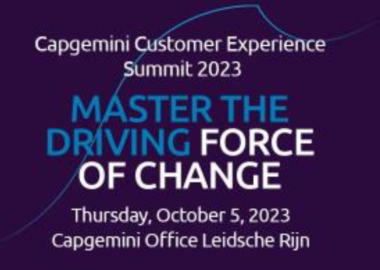 05-10-2023 11:30
CEO, CTO, CIO, CMO - all those terms are obsolete. Remnants of a time when companies took themselves as the starting point - in product development, in marketing, in strategy. With new technology and data-driven insights, that can no longer be sustained. We now know who our customers are, what moves them, and what their needs and interests are. And our customers expect us to deliver on that. You could say that the customer has moved into the boardroom. And that we have all become CCXOs: Chief Customer Experience Officer. What does that mean for you and your organization? In an executive track, we provide space for board-level discussion about a new role: the Chief Customer Experience Officer
Introducing CCXO the Chief
We engage in conversation with you and your colleagues from various sectors and organizations. In this, we approach the change from three perspectives:
THE CONNECTED CCXO:
The connected CCXO: Today's consumer expects a personalized experience, based on insight into personal drives and preferences. But what are those preferences? What drives today's consumer? How do we capitalize on them? And how do we deploy these insights efficiently, linking maximum return to maximum cost effectiveness?
THE SUSTAINABLE CCXO:
We can't ignore it: our organizations have a responsibility when it comes to combating climate change and making our own business processes and marketing more sustainable. Customers expect the same from us. What role does the CCXO have in this and how do we make the CX more sustainable? And: how do we deploy sustainability as a driver of growth and success? THE CCXO AS AGENT OF CHANGE:
New technology, new insights and new goals: they affect the organization. And where change is needed, resistance can arise. As a CCXO, how do you bring your processes and people into the change, on the way to a CX-driven, future-oriented organization?
PROGRAM