Capgemini Customer Experience Summit 2023 - Profesionals Program: Master the Driving Force of Change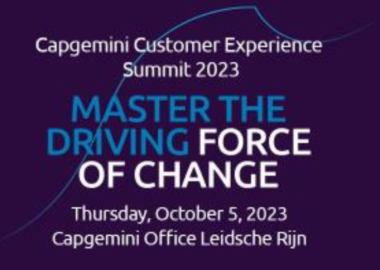 05-10-2023 11:30
Your CX transformation journey starts here. As any modern consumer will tell you: It's the experience that counts. But customer experience transformation is not achieved overnight. It's a journey. You need to re- calibrate your organization and processes. Implement data-driven technology, and harness the power of AI. Realign the skills and potential of your people. All with one aim: to put your customer first.
During the Summit, we will tackle this challenge from many perspectives. With keynotes from industry leaders. With breakout sessions. And with workshops, presented to you by our own Capgemini Academy and subject matters experts from our partners. It'll be a unique and fun opportunity to kickstart your own CX transformation journey – and meet up with colleagues and peers from a wide range of organizations and sectors.
Track 1: Perspectives on CX: a word from our customers and partners
In keynotes and breakout sessions, our partners and customers share their unique experiences and insights in CX, with an international audience of marketing decision makers.
Track 2: Capgemini Academy Presents: The CX Team Bootcamp
In this track, our Academy experts share their best practices and insights to give shape to the ultimate CX workforce. They show the audience how gain key skills in data and analytics, digital marketing, personalization, strategic thinking, collaboration, and creativity.
Track 3: The Customer First Workshops
When we talk about CX transformation, what exactly do we mean? What happens when we put our customers first? In this track, we give our audience a taste of the immersive experiences made possible by new technologies such as generative AI, virtual and augmented reality and IOT.
Program for CX professionals