CX in 2 half days: Get inspired & activated (CX Unraveled)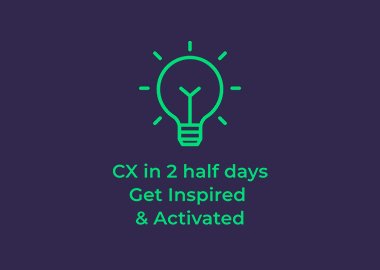 21-06-2023 13:00
WHAT, WHY & HOW OF CX
What is Customer Experience?
Why is it important for you & your company to invest in Customer Experience? Facts & Figures with which you can convince others.
How do you create an unrivaled Customer Experience?
Here we expand on the 6 pillars of Customer Experience needed within a company to create a consistent & distinctive customer experience:
1.Customer Understanding
2.CX Strategy
3.Customer Oriented Organization
4.CX Metrics
5.Human Centric Design 6.Customer Obsessed Culture
TOOL: CUSTOMER JOURNEY
MAPPING
What is it, how do you use it? Interactive Customer Journey Mapping exercise
How to use a Customer Journey Map to innovate or enhance experiences
OUR WAY OF WORKING
To ensure an optimal learning experience session, the masterclass is followed up with a 1 hour personal coaching session, in which we can expend on Customer Experience in your field or discuss any other CX related topics. This Masterclass will be held online via ZOOM and we will use MIRO as a collaboration platform.
DATA
June 21 & 22 ONLINE 13.00 - 17.00 CET
PRICE
Normal: €599 PvKO Members: €539
LANGUAGE
English
Click here for more information about the masterclass. For questions about registration, please email hello@cxunraveled.com.